CULTURAL TOUR TO WESTERN KENYA
INCLUDES VISITS TO KAKAMEGA FOREST, SAUTI KUU FOUNDATION OF AUMA OBAMA, RUSINGA ISLAND AND KISUMU
Day 1 (Nairobi - Kakamega)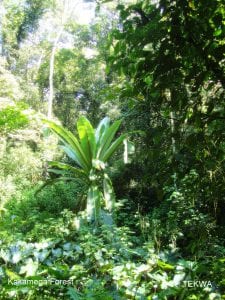 Depart Nairobi at 7.30 am. Proceed towards Naivasha along the escarpment of the Great Rift Valley. Enjoy breathtaking views and learn about the origins of this natural phenomenon. Follow the Rift Valley to Kariandusi, where we visit the pre-historic site. After having passed Nakuru, El Molo and Tinderet we branch off towards Kapsabet. Picnic lunch in an alpine forest. Reach RONDO RETREAT LODGE, situated in the middle of Kakamega Forest, after an approx. 6½ hours' drive. Dinner at the lodge.
Accommodation: Rondo Retreat
Day 2 (Forest Walk; Visit to the Crying Stone of Illesi)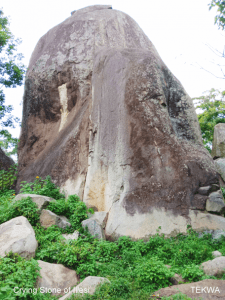 A longer and a shorter walk through the forest, the largest rainforest remaining in Kenya, will be offered in the morning. Besides of hiking through a very specific kind of fauna you will see Blue, Red-tail and Colobus Monkeys and many endemic birds. After lunch, enjoy the beautiful gardens of our lodge. At around 3.30 pm we drive to Illesi (approx. ½ h), admire the Crying Stone, listen to the legend around it and enjoy a sundowner.
Lunch and Dinner at the lodge.
Accommodation: Rondo Retreat
Day 3 (Kakamega Forest - Kisumu)
Leave Rondo Retreat after breakfast towards Shamakhokho, from where we shall visit one of the sacred forests of the Tiriki people and learn about their traditional religious beliefs and rites. We continue to Majengo and turn off towards the Mungoma Caves in Mahanga. Picnic lunch on the farm of Mzee Mwangale, the elder in charge of the caves. Later visit of the caves. In the afternoon we continue to Kisumu. (2h 15m drive). After check-in to THE VIC HOTEL visit of the Mosque, the
Museum and the famous Market, where you have good  shopping opportunities. Dinner at the Hotel.
Accommodation: The Vic Hotel, Kisumu
Day 4 (Kisumu - Rusinga Island)
Morning at your disposal. Lunch in a restaurant at the lake. On the way to Rusinga Island visit of Hippo Point and Dunga Village where you can enjoy great views of Lake Victoria and with some luck of some hippos. We continue to Kendu Bay and enjoy a walk and sundowner at Lake Simbi. We continue to Mbita and cross the bridge to Rusinga Island. (3h drive).
Accommodation and dinner: WAYANDO BEACH CLUB
Day 5 (Rusinga - Thimlich Ohinga - Rusinga)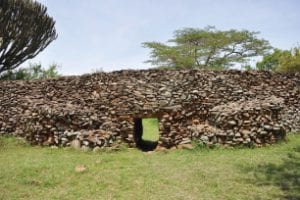 Today we visit one of the most interesting but little known pre-historic sites in Kenya. Thimlich Ohinga is the greatest stone enclosure in East Africa and has parallels with Great Zimbabwe in Southern Africa, albeit not as big.
Archaeologists suggest it was built in the 15th century by a people inhabiting Nyanza before the coming of the Luo people (Bantu?) as a fortified village protecting against intruders. It was later taken over by the Luo people. Despite of poor excavation and restoration and lack of mapping walking through the various enclosures – some over 4 m high – is an impressive experience. Picnic lunch at the site. On the way back short stop at Homa Bay, another busy fishing village at the shores of Lake Victoria. (Overall driving time 4 ½ h) Supper at the lodge.
Day 6 (Rusinga - Alego/Kogelo)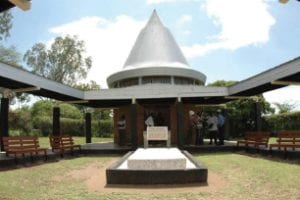 In the morning visit of the Mausoleum of Tom Mboya, a Kenyan politician of the early independence days, and a local NGO, Rusinga Island Trust, which has been active in HIV/Aids prevention and treatment since the 70s with a lot of success. Lunch at the lodge. At 3pm departure from Mbita by ferry to Luanda Kotieno, a fishing village at the tip of a peninsula in Siaya County. On the wa to Kogelo we visit Kit Mikayi, another fascinating stone formation with its legends and traditional beliefs. Arrival in Alego/Kogelo late afternoon. (2 h drive)
Accommodation: Hotel Juliana, Alego/Kogelo
Day 7 (Full day visit to Dr. Auma Obama's Sauti Kuu Foundation)
In the morning guided tour through Auma Obama's foundation "Sauti Kuu" (Strong Voices). It is Dr. Obama's vision to obtain sustainable economic independence for the communities in rural Siaya/Kenya/Africa. To achieve this goal Sauti Kuu assists children, adolescents and their families to discover and to develop their own resources and potentials. You will have the opportunity to visit a "kitchen garden" in one of the homesteads of Kogelo where the farmer's wife, with the help of SKF, is planting vegetables for her own family and for the market. In the afternoon you will participate in the activities of the various youth groups. Lunch at the foundation, Dinner at the Hotel.
Accommodation: Hotel Juliana, Alego/Kogelo
Day 8 (Alego/Kogelo – Kisumu – Kericho – Nakuru – Nairobi)
Departure after breakfast (7.30 am). We follow the road to Kericho through tea-growing country. Short stop at one of the tea farms. Picnic lunch en route. Tea break in Nakuru. Arrival in Nairobi late afternoon (overall driving time: 7h 30 m).
8 DAYS - WESTERN CIRCUIT
Cultural tour to western Kenya includes visits to Kakamega Forest, Sauti Kuu Foundation, Rusinga Island, Kisumu
CULTURE, HISTORY AND ADVENTURE IN KENYA
We offer tailor-made tours for clients interested in history, anthropology and palaeontology.
All our tours are accompanied by a professional historian specialised in African/Kenyan history.
Contact Us